My Favourite Books Nomination Result
19 Nov 2018
The 8 most favourite nominated books of My Favourite Books Nomination are listed as follows: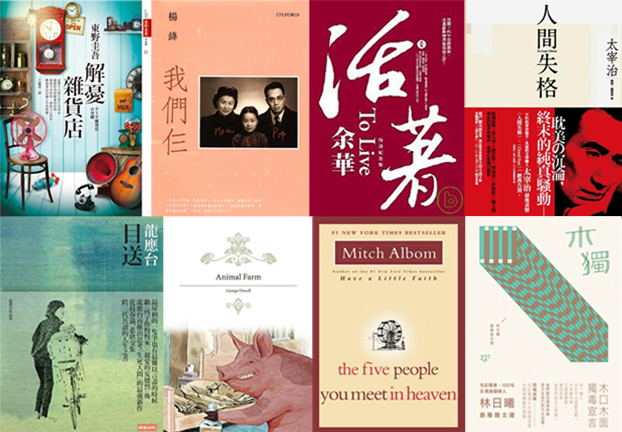 Congratulations! The following students had won My Favourite Books Nomination Lucky Draw. The winners will be notified by email and awarded with a HK$50 book voucher to be collected at the CPCE Libraries. Please note that all unclaimed prizes will be forfeited after 8 December 2018.
Thank you for your participation.
| | |
| --- | --- |
| Student Name | Student No. (first 4-digits) |
| CHAN Ching Him | 1804 |
| CHAN Hiu Ching | 1705 |
| CHAN Ying Tung | 1707 |
| CHENG Tsz Tung | 1704 |
| CHENG Yu Shan | 1715 |
| CHEUK Man Ching | 1705 |
| CHIU Ho Yin | 1804 |
| CHIU Yui To | 1702 |
| CHU Ka Kin | 1808 |
| CHU Ming Man | 1802 |
| CHUNG Cheuk Kiu | 1809 |
| HO Chi Hang | 1700 |
| HON Yui | 1819 |
| IP Ka Yan | 1700 |
| KONG Kam Hoi | 1811 |
| KONG Pui Si | 1812 |
| LAM Lok Ka | 1601 |
| LAM Lok To | 1703 |
| LAU Yan Yi | 1807 |
| LO Shuk Ching | 1700 |
| LO Wing Yan | 1614 |
| MOK Hoi Chi | 1802 |
| NG Yu Pan | 1814 |
| TANG Sin Yi | 1802 |
| YEUNG Cho Kit | 1817 |
| YEUNG Ho Tin | 1803 |
| YEUNG Pui Yee | 1710 |
| YIP Hiu Yan | 1803 |
| YU Cheuk Hung | 1802 |
| YUEN Hei Wa | 1813 |
CPCE Libraries